Events
Guimarães
Where To Stay

Where To Eat

Accessibility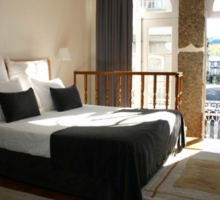 The Hotel Mestre de Avis is one of the best located hotels in Guimarães. Situated in the...
More info
In the middle of the city, bordering the historic center, Hotel de Guimarães (116 rooms),...
More info
Other delicacies in Fafe council are the sponge cake ("pão-de-ló") and egg-yolk sweets ("doces...
More info
Traditional Restaurant. Family restaurant which serves many dishes from the national regional.
More info