House of Calçada
Barcelos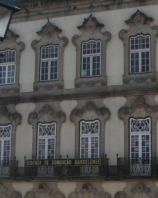 Description
Located at the nº 10, Porta Nova Square, dates from the 18th century.

Location: Barcelos
Where To Stay

Where To Eat
Recently restructured, D. Nuno Hotel, in the city of Barcelos, offers an excellent service of...
More info
RNAL REG. Nº 45836/ALArt'otel Is housed in a beautiful building built around 1937. Recently...
More info
Historic restaurant with 400 years history, regional heritage.Has capacity for 700 people,...
More info
Here you can try the Duck rice at the old-fashioned way or with cheese, Roll of Veal stuffed...
More info