Marisqueira Marujo
Matosinhos
What's happening

Points of interest
05 and 06 Oct 2019
Casa Arquitectura based in Matosinhos will host the 1st edition of the Sneakers Fest, an event...
Matosinhos gathers a gastronomic offer without parallel. From the old blocks emerge appetizing odors that emanate from the kitchens of coal cooking...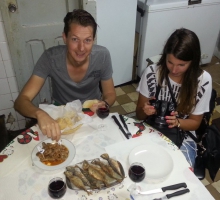 We invite you to join us in this irreverent adventure through the city of Porto. With a different theme every day, join us to see Porto through the eyes of...