Restaurant 3 MMM
Gondomar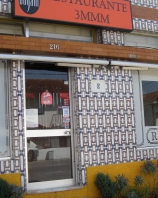 Description / Facilities
Restaurant 3 MMM
Address:
Rua Dr. Francisco Sá Carneiro, 216 - 4420-130 Gondomar
E-mail:
restaurante3mmm@gmail.com
What's happening

Points of interest
Oporto is the second most populated city in Portugal, located in northwest region of the country. It has magnificent avenues, monuments and the city is...
This ancient art is also a heritage that encompasses the entire County. The Filigree with long centuries of history, the result of the existence of gold...