Restaurante Adega
Mirandela
Description / Facilities
Day Off: Sunday (dinner)
Address:
Av.25 de Abril,866/ 5370-202 Mirandela
E-mail:
adega@live.com.pt
What's happening

Points of interest
A revivalist pilory with a level plate  with moulding, topped by a conical base with a round finial.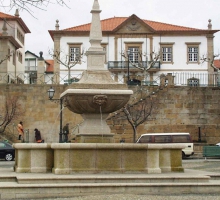 Fountain built in the Square during the Philippine Dynasty and was completed in 1636. The original monument remaining 3 parts corresponding to the water...