Arcos de Valdevez
What's happening

Where To Eat

Points of interest
Opening Hours: 9h ? 15h / 19h ? 22h Capacity:56 seats Specialities: Cozido à minhota (Minhota...
More info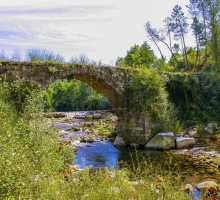 Erected between the 13th and the 14th century, then restored by João Rodrigues in 1613, the "Ázere"?s bridge presents itself with a traditional horizontal...
Counsellor Miguel Dantas Gonçalves Pereira was a Portuguese parliament member, a Peer of the Realm, the mayor of Paredes de Coura, an office he held between...