Arcos de Valdevez
What's happening

Where To Eat

Points of interest
"O Brandeiro" is a typical restaurant with a rustic look. Situated in Branda da Aveleira, it is...
More info
Day Off - Monday Capacity  - 48 Specialties-"Posta e Costeletão de Cachena " (Piece of Meat and...
More info
Irrefutable evidence of past glaciations in the Peneda Mountain: The upper section of the Vez river valley encloses some of the most important vestiges of...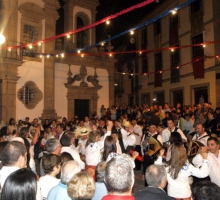 The primitive façade of the "Misericórdia" Mercy Church, had a niche with an image of Our Lady of Mercy made out of stone that the people began to...