Monção
What's happening

Where To Eat

Points of interest
01 Aug to 31 Dec 2020
The XXI Cerveira International Art Biennial is back and marks a milestone in the national...
The Restaurant Sete à Sete, is located in the historical center of Monção, it  has a...
More info
Located in the Hotel Dom Afonso, this restaurant focus on  regional and portuguese cuisine. In...
More info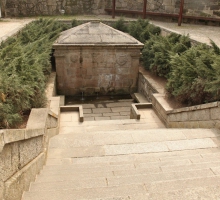 Next to the Caldas Avenue and to the Municipal Archives as well, we can  find  the  Village Fountain,  an  interesting  manueline style fountain,  dating...
Unique wine in the world, from a unique caste that only grows in the Iberian Peninsula, the Alvarinho caste is one of the most important varities of the...