Monção
What's happening

Where To Eat

Points of interest
Located in the Hotel Dom Afonso, this restaurant focus on  regional and portuguese cuisine. In...
More info
The Restaurant Sete à Sete, is located in the historical center of Monção, it  has a...
More info
The River Minho Ecotrail is a good option for physical training while you can  discover part of the region. Connecting Valença to Monção, this trail...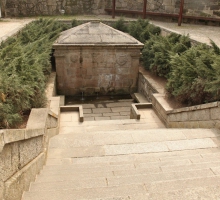 Next to the Caldas Avenue and to the Municipal Archives as well, we can  find  the  Village Fountain,  an  interesting  manueline style fountain,  dating...