Arcos de Valdevez
What's happening

Where To Eat

Points of interest
The restaurant is part of the  Arcos Hotel Nature & Spa. -Opening hours: 12h30 ? 15:30h /...
More info
Closed on Satyrday (except in August) and one or two weeks in September Opening Hours: 9h-...
More info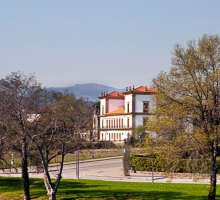 The characteristic Manor House of rectangular plan, probably dating back to the 18th century, features two towers connected by a lower body, composed of...
Deeply attached to the genesis of "Valdevez" lands, the Romanesque castle of Santa Cruz, in "Vila Fonche", assumes a quite particular interest in local...