Ponte da Barca
What's happening

Where To Eat

Points of interest
20 Jul 2020 to 23 Aug 2021
The House of Marco in Arga Low in the months of July and August, becomes a magnificent gallery,...
In Protected Area of Lagoas de Estorãos e S. Pedro de Arcos, this space promotes the best...
More info
It is a restaurant taht received the the "Talher de Prata" (Silver Flatware) prize for its...
More info
Location: Serdedelo, Gondufe, Beiral of Lima, Boalhosa and Duas Igrejas (town of Vila Verde)Type of Course: Short RouteTheme: Environmental and...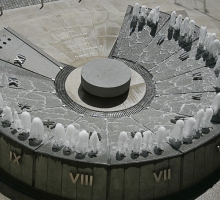 The Water Clock is located in "Largo da Lapa" and considered an EX-LIBRIS of the Historical Nucleus of "Arcos de Valdevez". The aquatic based architecture...