Armamar
What's happening

Where To Eat

Points of interest
It is a traditional portuguese cuisine highlighting the small lamb of Armamar.
More info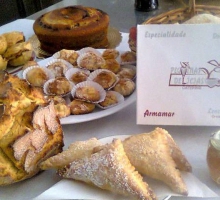 Bakery and pastry made on the premises.Specialities: "Delícias de Maçã ®" | "Lencinhos"
More info
The monument to the Immaculate Heart of Mary, inArmamar is located in a central garden of António Oliveira Salazar Avenue and facing the Mother Church, it...
It is still held on 24 December  in Armamar, an the fair site, fortnightly. Formerly one of the things that people most looked at this fair was fresh streak...