Sabrosa
What's happening

Where To Eat

Points of interest
Quinta dos Magusteiros is located in the Douro valley, in the parish of Barcos, 5 km from the...
More info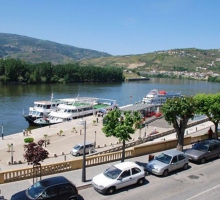 Car tour through Covas do Douro, S. Leonardo da Galafura, Lamego, Peso da Régua and return to Pinhão on a rabelo boat going up the navigation lock of the...
The Bagaúste Dam is located in the river basin of the River Douro, between the riverbanks of the Lamego and Peso da Régua municipalities. The construction...