Vila Real
What's happening

Where To Eat

Points of interest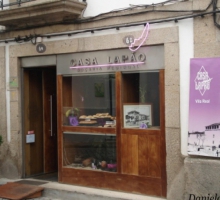 Founded at the beginning of the 20th century, Casa Lapão boasts almost 100 years of experience...
More info
The Vila Real Museum of Archaeology and Numismatology (MANVR) is a regional museum, since this is the scope of its collection. As a primary objective, the...
The construction of this House is believed to date to the 15th century, where according to conveyed tradition, Diogo Cão was born, the famous Navigator...