Guimarães
What's happening

Where To Eat

Points of interest
Restaurant with great tradition. At the table, the dishes are part of our traditional cuisine...
More info
The Restaurant Cozinha Regional de Santiago appeared in 1980 on current installations, by the...
More info
Perhaps no county so genuinely take his culinary personality certainly marked the dawn of Nationality, ensuring own specificity, as Guimarães. Kitchen of...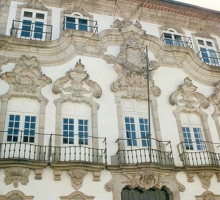 The facade is in the style of late Portuguese baroque, profusely decorated in granite typical of the region, with vigorous  bas-relief  motifs which...