Guimarães
What's happening

Where To Eat

Points of interest
Located in the historic city, this century old house was founded in 1907. It has two rooms with...
More info
The cuisine is an art that has evolved flavor of the times in a convent sweets Guimarães is one...
More info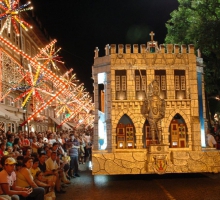 Festival with a centuries-old tradition that, over the years, has been experiencing space and time, convergence, motion, color, emotions and demonstrations...
The historic town of Guimarães is associated with the formation of the Portuguese national identity in the 12th century. The Historic Centre classified in...