Marco de Canaveses
What's happening

Where To Eat

Points of interest
11 May to 31 Dec 2019
Marco de Canaveses has, as of May 11, a new brand. In an event held in the Auditorium of the...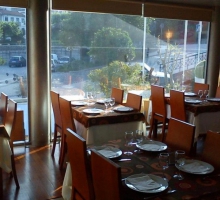 The restaurant Pensão Magalhães works since 1920, is locate in Fornos, in the ciyy center. It is...
More info
Restaurante Nantilde has at its disposal an excellent Restaurant, where in addition to Lunches...
More info
The Pascoaes house is located about three kilometers from Amarante in Gatão parish. What makes the house so special is not only the details of its...
In operation since 2014, the urban transport network Urbmarco integrates three lines - blue, red and green - that have been programmed to transport citizens...