Marco de Canaveses
What's happening

Where To Eat

Points of interest
01 Jan 2018 to 31 Dec 2020
We found Marco de Canaveses in Northwest of Portugal, within the Douro Litoral, district of...
26 Jul 2019 to 31 Jul 2020
Os Melhores Verdes 2018 ? Concurso da Região dos Vinhos VerdesVERDE OURO ? Casa de Vilacetinho...
Available to customers all arouquesas meat for exactly two years, with quality service in the...
More info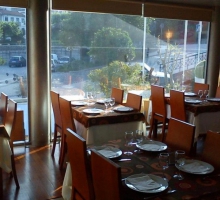 The restaurant Pensão Magalhães works since 1920, is locate in Fornos, in the ciyy center. It is...
More info
The Marco de Canaveses Interactive Tourist Shop (LIT), inaugurated on May 30, 2014, is located in the heart of the city of Marco de Canaveses, in the City...
Built on the left bank of the river Tâmega, along a major thoroughfare linking the coast line to the interior of the river Douro, the Church of Saint...