Marco de Canaveses
What's happening

Where To Eat

Points of interest
01 Jan 2018 to 31 Dec 2020
We found Marco de Canaveses in Northwest of Portugal, within the Douro Litoral, district of...
25 Jan to 27 Dec 2020
The Used Market is a market that counts on a considerable number of exhibitors of old, used and...
It is a typical restaurant where the Roasted Lamb with Rice and Potatoes, the Beef Tenderloin,...
More info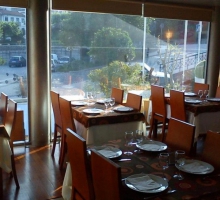 The restaurant Pensão Magalhães works since 1920, is locate in Fornos, in the ciyy center. It is...
More info
The county of Marco de Canaveses is located in the district of Porto, Douro region in full. Its limits are set by the municipalities of Amarante (north),...
Caminhos Velhos - Tourist Animation promotes tourist itineraries in the Douro region, where Wine is King. Specialized in the production of themed, cultural,...