Maia
What's happening

Where To Eat

Points of interest
46 years ago, Mr. João Monteiro Peixoto, bought the Requieira Restaurant, so called because of...
More info
The restaurante Garfo Real has capacity for 60 people. It is the ideal place for a pleasant meal...
More info
TOWN MUNICIPALITY SQUAREOriginally named as "Praça do Príncipe Real", the current "Praça Álvaro Marques" or "Jardim dos Paços do Concelho", was the first...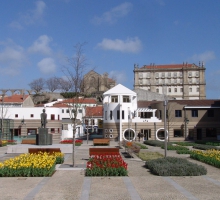 The José Régio Square resulted from an urban operation, in which the interior of the block into which it inserts was converted into a public space. In 1984,...