Espinho
What's happening

Where To Eat

Points of interest
Very cozy space overlooking the sea. Very good production of Espinho fish stew. Also try the...
More info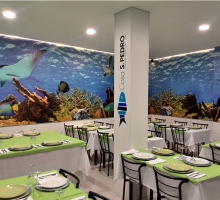 House specialized in Grill on Charcoal, fish and meat. Come experience the squids and...
More info
The International Living Statues Meeting is one of the highlights of street entertainment in the city, aiming to encourage and disseminate artistic creation...
Located in a pleasant area of the city, where the residence, the School and the Sports Facilities (Swimming Pool) articulate an experience of residential...