Caminha
What's happening

Where To Eat

Points of interest
24 to 28 Jul 2019
"The nature of the medieval historical center of Caminha emerges strengthened by the...
In a refined atmosphere let yourself be seduced by the flavors of traditional Portuguese...
More info
Situated at the mouth of the Rio Minho, where the river and the sea meet, 1,5 km from the town...
More info
The Rua César Maldonado (César Maldonado Street) began to emerge in the XVI century at the same time as the population and the urban area. We can notice...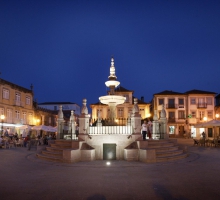 Lacated in the historical center of Caminha, The Fountain is a remarkable work that beautifies The Terreiro Square. It was ordered to be built between 1551...