Caminha
What's happening

Where To Eat

Points of interest
10 to 18 Nov 2019
An international showing organised by the "Teatro do Noroeste"? Theatre ? Viana?s Dramatic...
21 Nov 2019
This Cycle promotes the creation of consumption cultural habits by providing a connection with...
In the midle of historic center of Viana, an old community bakery, from the XVI century, was...
More info
Located in a prime location on the Atlantic Ocean, with the perfect juncture between land and...
More info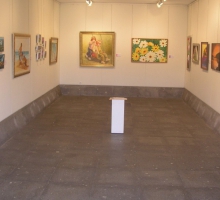 The Caminhense Art Gallery, located in the middle of the village square, is a space through which pass by dozens of exhibitions of artists throughout the...
Park Dr Luis Ramos Pereira, is located in Av. Dr. Luis Ramos Pereira in Vila de Âncora, near the mouth of the Ancora river and near the beach. It offers...