Amares
What's happening

Where To Eat

Points of interest
04 Jul 2020
Race against the clock of the good escadórios Jesus do Monte.A single event in area for World...
02 Sep 2019 to 31 Jul 2020
Becken FilipeFine Art Classes . Art . CommissionsDrawing Classes, Anatomical Drawing and Oil...
The Churrasqueira de Caldelas is the Antunes family touristic project of excellence.The...
More info
It is located 500 meters from the resort of Caldelas Spa, and 28 minutes from the Peneda-Geres...
More info
The thermal town of Caldelas is considered one of the most prestigious spa/thermal baths in Portugal.Emerged at the end of the first quarter of the 20th...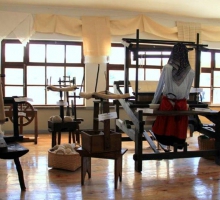 The Museu of Linho (Museum of Linen) is the result of a partnership between the Municipality of Vila Verde, Parish Board of Marrancos and the Recreational...