Dolce Vianna
Viana do Castelo
Description / Facilities
Italian and traditionl portuguese cooking
Address:
Rua do Poço, nº 44 4900~-519 Viana do Castelo
What's happening

Where To Eat

Points of interest
Traditional Restaurant! Portuguese cuisine, cozy atmosphere with fireplace, terrace and garden....
More info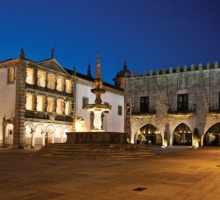 The Parish Church (Matriz), the Domus Municipalis (Antigos Paços do Concelho), the 16th century Hospital for the Poor (Casa da Misericórdia) and the Central...
Former host of the Inn pilgrims from Santiago, founded by John Paes "old" in 1468 and restored in the 16th century. The façade is the result of the...