Hotel da Peneda
Arcos de Valdevez
What's happening

Where To Eat

Points of interest
Paris Restaurant is located in Melgaço in the north of Portugal.It is a typical restaurant, with...
More info
The Casa dos Borralhais wine is produced with the precious nectar of Loureiro grapes that grow...
More info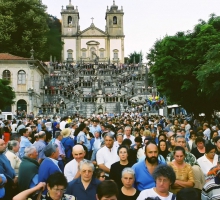 A long time ago the Pilgrimage was realized in August; actually, the Pilgrimage to Our Lady of Peneda "Nª Srª da Peneda" occurred from the 1st to the 8th of...
Architectural heritage consists of 46 examples illustrating the daily life of the Castro Laboreiro people in times of yore. Of the 44 seats of the two...