Hotel Petrus * * *
Chaves
What's happening

Where To Eat

Points of interest
12 May 2019
This new year brings with it the 3rd edition of the Boticas Trail - Paths of the Galaico and the...
Restaurant located on the edge of the center of Boticas village. Regional cuisine. Typical...
More info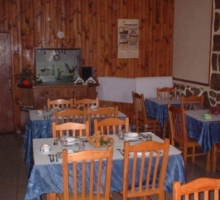 The restaurant Larouco is located in the town of Vilar de Perdizes, 17 km from Montalegre, an...
More info
History of the Railway Transports Division The Museum Division of Chaves occupies the premises of the former stagecoach house of that station terminal of...
Living Chaves promotes the culture, customs and products of Chaves providing tourist accompaniment and entertainment services.