Hotel Petrus * * *
Chaves
What's happening

Where To Eat

Points of interest
23 to 25 May 2019
Exhibition of traditional culture for the preservation of intangible cultural heritage -...
Opening hours: Sun - Thu 8am to 0am Fri and Sat 8am to 1am Services: Children's Space; Baby...
More info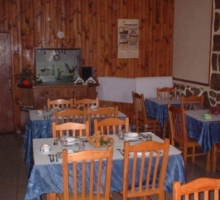 The restaurant Larouco is located in the town of Vilar de Perdizes, 17 km from Montalegre, an...
More info
History of the Railway Transports Division The Museum Division of Chaves occupies the premises of the former stagecoach house of that station terminal of...
The Museum of Sacred Art was officially opened on 17 September 2008. Located in a building adjacent to the Church, seeks to recover, preserve and enhance...