Paredes Hotel Apartamento
Paredes
What's happening

Where To Eat

Points of interest
28 Sep to 21 Dec 2019
Making music with babies and their parents is an experience, both of sharing and collaborating....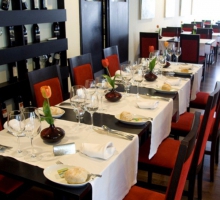 Located in the hotel Paredes Hotel Apartamento, the restaurant "O Tradicional" privileges the...
More info
Located in the center of Paredes, this restaurant has a rustic and cozy atmosphere. Group...
More info
Integrated in the revitalization project of the riparian areas of Lordelo and Rebordosa, the river Ferreira Park is situated in the parish of Rebordosa and...
The Municipal Library of Paredes is located in the José Guilherme Square, a building dating from 1866, where, previously, worked one of 120 schools built in...