Paredes Hotel Apartamento
Paredes
What's happening

Where To Eat

Points of interest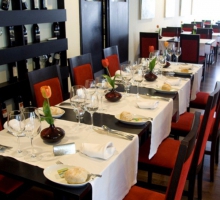 Located in the hotel Paredes Hotel Apartamento, the restaurant "O Tradicional" privileges the...
More info
Located in the center of Paredes, this restaurant has a rustic and cozy atmosphere. Group...
More info
The José Guilherme Park/Square is a one hectare space, which was surrounded by quality buildings such as the Municipal Library, after the opening and...
It is a religious and recreational feastivity with a firework show. The feastivities of the City and County of Paredes, in honor of the Divino Savador, have...