Arouca
What's happening

Where To Eat

Points of interest
04 Jan to 26 Dec 2020
On the first Saturday of each month, there are two sessions of the Bread Cycle, at Casa do...
It is a space with a modern and sophisticated decoration, being at the same time comfortable and...
More info
It seats 350 people and the average price is ? 12.50. The specialties are, "vitela assada"...
More info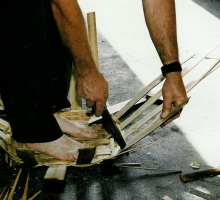 Wood, slate or linen. These are the raw materials, which are transformed into unique pieces by skilled hands of local artisans that preserve ancient...
Liying on the mountains and built with local materials ? schist and granite ? the Arouca Geopark has a significant number of traditional villages that...