Kayak Tours
Alijó
Description
Rental, Tours and Expeditions in Kayak

Location: Alijó
Where To Stay

Where To Eat
The Vintage House Hotel enjoys an idyllic and tranquil riverside location at Pinhão in the...
More info
Quinta do Pégo is a 4-star rural hotel set in a wine-producing farm on the slopes of the Douro...
More info
The restaurant "Foz do Távora" is located next to the Douro River, on the River Távora pier. It...
More info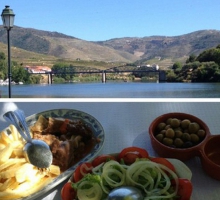 Great view of the river Douro. In the menu stand out the dishes of traditional Portuguese...
More info