Viewpoint of "Senhora das Treburas"
Montalegre
Description

Spot to admire fantastic views. On the horizon see also the dam of Alto Rabagão.

Location: Montalegre
Where To Stay

Where To Eat
The ruins of the ancient seminar, near  the Serra do Larouco, was born this house, where it?s...
More info
Beside the Medieval Castle of Montalegre, overlooking to the village of Montalegre, you can...
More info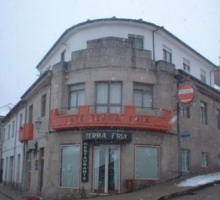 Situated in the centre of Montalegre village, it is a pleasant restaurant where the rustic and...
More info
The restaurant is located in Fafião, and there is nothing better to rest from the stress and...
More info