Casa Real
Ponte da Barca
Description / Facilities
European cusine
Address:
Rua D. Manuel I, 4980-649 Ponte da Barca
What's happening

Points of interest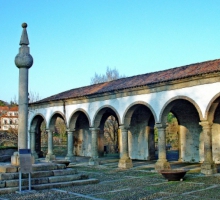 The Pombalino Market is a unique work of great architectural value, located in front of the pillory of Ponte da Barca. The "Abrigo Porticado" (Shelter), in...
The river beach is located in the town of Ponte da Barca. It has a wide sandy beach and enjoys a stunning natural landscape. In summer season, it is equiped...