Restaurant Casa Amarela
Gondomar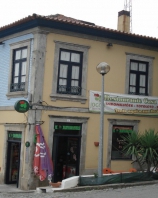 Description / Facilities
Restaurant Casa Amarela
Address:
Avenida Miguel Bombarda, 1 - 4420-502 Valbom
What's happening

Points of interest
Transportation Francisco Sá Carneiro Airport - CoimbraTransportation of passengers in a 100% electric Tesla vehicle. Maximum capacity up to 6 passengers.
Travel through convents, regal streets and secret courtyards, to the house of Prince Henry the Navigator, travelling on the route of power which became a...