Armamar
What's happening

Where To Eat

Points of interest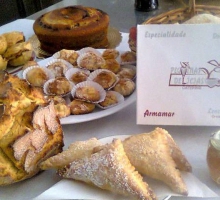 Bakery and pastry made on the premises.Specialities: "Delícias de Maçã ®" | "Lencinhos"
More info
Also known as "Buraco d`Água", this restaurant is situated near the Douro River, alongside...
More info
Mannerist civil architecture building, typical of the Beira Alta region. Built in granite, it has two floors and few small windows, but no chimney. It has a...
The feast is made in honor of Santa Ana and Nossa Senhora da Graça in Vacalar. When the festival takes place, it extends from the last Saturday to Monday...