Baião
What's happening

Where To Eat

Points of interest
01 Jan 2018 to 31 Dec 2020
We found Marco de Canaveses in Northwest of Portugal, within the Douro Litoral, district of...
The Penhadouro Restaurant, is situated of Penhalonga. Is an Restaurant adherent to...
More info
 The House of Lavandeira has a place for events with capacity for 300 people, which provides...
More info
In the mid 40s of the XX century, the Portuguese writer Alves Redol described the village of Porto Manso in a book, as: "It is also within sight of the...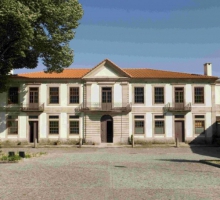 The Casa da Juventude e Desporto de Baião (Baião Youth and Sport House) was built in the XIX century by General Francisco Lobo de Ávila, renowned person of...