Caminha
What's happening

Where To Eat

Points of interest
01 Jan 2020 to 01 Jan 2021
Begin the new year 2017 in the best way, in the magnificent Matrix Church of Caminha, to the...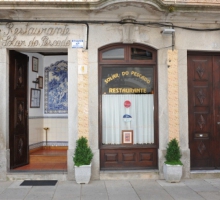 Situated in one of the arteries in the historic center of the village of Caminha, the Solar Fish...
More info
The "Marisqueira Valadares" has two rooms and terrace, and the terrace and one of the rooms...
More info
The river Coura is born in the mountains of Paredes de Coura and joins the waters of the Minho River, in Caminha.  50 kilometers long, its path is wide and...
The chapel of" Senhora da Agonia" is located in Senhora da Agonia square, in the end of  Pescadores street, it´s one of the newest chapel of Caminha, which...