Hotel Egatur Fonte da Vila‎
Monção
What's happening

Where To Eat

Points of interest
The Restaurant Fonte da Vila stands out for the quality of their  fresh  seafood and by  the...
More info
Salmon, shad,  lamprey and  lamb on the top of the rice are some of the regional specialties...
More info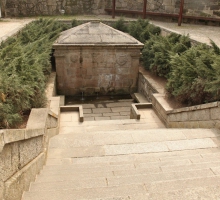 Next to the Caldas Avenue and to the Municipal Archives as well, we can  find  the  Village Fountain,  an  interesting  manueline style fountain,  dating...
The walls of Monção are located on the bank of the river Minho, and on the other side, the  Fortress of Salvaterra, in Galiza. Follow the perimeter of the...